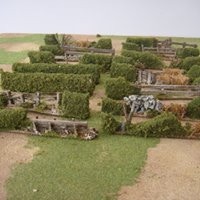 16 hedge sections, each section is an unique hedge section, and contains, trees, trees stumps,rocks and bits of fencing, perhaps a hasty repair by the farmer!

If you are after larger quanities please have a look at our larger sets.

As you can see from the pictures they make a great square Hedged field or a very long hedge, each wall also has the edged trimmed into an arrow head so you dont need any corner sections and you can also put these out on interesting angles.